Online Youtube Tag Extractor Example
Below is an example of the original Youtube Tag Extractor and the result.
Original Youtube Tag Extractor Example

https://youtu.be/bUZkMWTxoGs

And an example of how the online Youtube Tag Extractor works.
Youtube Tag Extractor Result

youtube tag extractor
youtube tags extract
youtube tags extractor
tag extractor
yt tags
extract tags from youtube video
youtube tag extract
youtube tag extraction
youtube tag generator
youtube tags generator
tags generator for youtube
youtube video tag
keyword youtube search
youtube tags generator free
tags tool
youtube url converter
youtube channel description generator
tag extract
tags extract
youtube tag generator free
find youtube tags

---
How to use Yttags's Youtube Tag Extractor?

Step 2: Paste Your URL for Extract Meta Tags...

Step 3: Click on Find Button

Step 4: Check Your Youtube Tag Extractor Result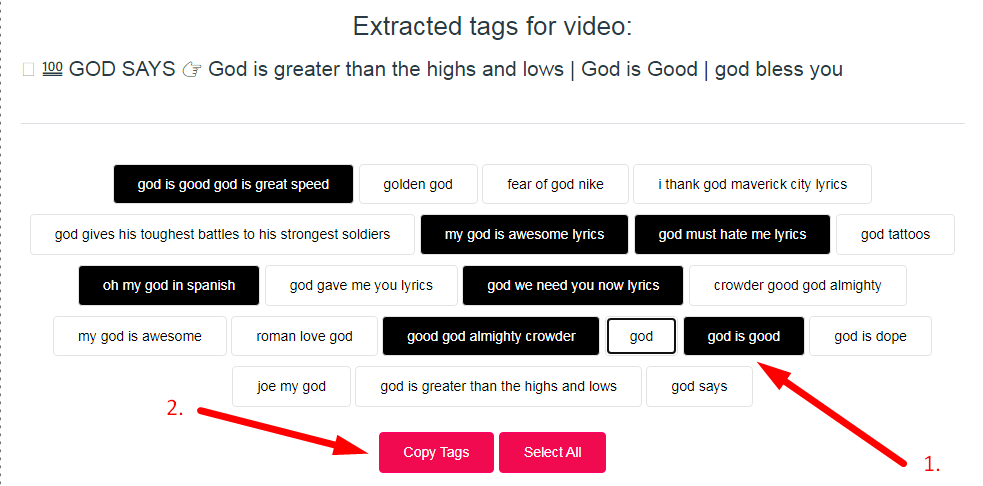 ---
About [FREE] YouTube Tags Extractor / Inspector
---
Our Youtube Tag Extractor tool helps you to check tags of any youtube video. You can copy and use tags on your youtube video to get higher ranking.
YouTube tag extraction indicates a course of action through which any individual can eliminate or reveal any tag from a YouTube video and accordingly use it for fulfilling their needs further. However, it is important to understand for every individual to develop their content and help to develop the credibility of the content by improving the content in an organized manner. Furthermore, tag extractor YouTube videos can help to provide different essential information to use for developing any individual content further and help to create a good representation target fan base for the individuals systematically. Moreover, it can help to gather different essential data baked into the video which anyone can use without any legal disruption to their content development for improving their productivity further.
What are the tags in YouTube Videos?
YouTube tags are the headings that any individual uses to inform the video content for showcasing the overall idea of the content and help to develop the interest of the viewers towards the video for increasing the numbers of the viewers into the particular channels to develop the target market base. Along with this, tags help to develop the engagement rate of the viewer individuals for enabling interest in the videos and help to develop the popularity of the content further. Even more, YouTube tags can be developed by utilizing different effective keywords which help the viewers to find the video content more easily and help to develop their interest in the video extensively. Along with this, tags can be referred to as YouTube titles, thumbnails, and video descriptions to help the viewers individuals to understand the content properly and help to create the creativeness of the video more astonishingly towards the target customer base for the future.
What is the tag extractor?
It is a set of different processes by which any individual can eliminate the taglines of any public YouTube video and accordingly use them for their video content to develop the initiatives and help to improve their channel impression in front of the target market base. Furthermore, the YouTube tag extractor can help to easily remove the tags from the selected video content by adding them to the own created video channels.
Moreover, a tag extractor is one of the widely utilized and appreciated tools through which any individual can effectively conduct the extraction and be able to create a good quality video for further. Along with this, it can help to provide different quality full video content without losing the resolution quality presented in an organized manner to build your popularity into the target fan base. Apart from that, the YouTube tag extractor is one of the user-friendly tools which anyone can get into this website effectively by maintaining the background quality further.
How to extract youtube tag?
Follow the steps given below to extract tag from any youtube video:
Open yttags.com
Search Youtube tag extractor
Paste Youtube Video URL
Now click on Find tag button
The procedure of tag extraction from YouTube Videos
It is one of the easiest ways through which an individual can tag extractor from different public youtube channels and use it in their own made different video content for further. However, first, you need to visit the website and tap on the search bar. After that, you need to paste the video link into the search bar and click the extraction option which is located just right of the search bar, and accordingly wait for the completion of the whole process. Moreover, after completing the tag extraction you can get the tagless video content easily into your gallery. Furthermore, this tool cannot lose the video quality and standard after downloading the tag-eliminated video content and accordingly satisfy the needs of your desired content systematically.
On the other hand, this website can help to provide digital security by maintaining the confidentiality of every individual and accordingly help to provide different excellent digital services which can mitigate your requirement and help to ensure the interest towards the website for further. Moreover, it should provide a high quality and excellent resolute video which can help to develop your video representation and create the brand image of the target market base for developing the demand of your channels and increasing the popularity further.
Extract The Tags From a Youtube Video Using YOUTUBE TAG EXTRACTOR
Yttags allows you to convert & Extract Tags from any videos on Youtube, Shorts Video, etc. Yttags video tags are used for the search of YouTube and to improve the search results (SEO) and views of your video. You can use the YouTube tags extractor to find those tags and improve your video tags with keywords. You can easily Extract for free thousands of Tags from YouTube and other Shorts Video.
When your revenue comes directly from growing views and subscribers, this is particularly important for monetized channels. YouTube tags generator tool is free, and it will help you to find To maximize your ranking, here are some tips on how to use the tool:
Step1: Use our free tool Yttags Tool tag generator.
Step2: Just copy and paste any YouTube URL into the given text box and click the find the tags button.
Step3: You will see the list of tags.
Step4: As per your requirement, you can download the tags. Else, you can copy and paste at your safest place.
Benefits of YouTube tag extract
Features
Unlimited Extract Tags and always free
SEO-friendly tags
No registration required
The workload is minimal
Increasing the number of views on videos
YouTube tags are different from hashtags usually mentioned in the description. They are the hidden keywords of a creator to help people find videos easily. When people search with these keywords, they can find desired videos of the top level. However, youtube tags are not visible to all nowadays. But some youtube tag extraction tools help to disclose those tags for a particular video. This type of tag extractor has many advantages. Firstly, it evaluates the video and then creates a number of relevant tags appropriate for the video which ultimately helps to increase the visibility and popularity of that video. Next, tag extractor tools can save a lot of time for users to find the best tags for their videos. Moreover, it can help people who search specific videos by determining yt tags. It simply assesses whether the result is matched or not with the searched keywords.
Key factors of the tag extraction
There are various youtube tag extraction tools available on our Website. But you have to choose the one that will provide you with appropriate tags for your videos. Tag extraction from YouTube videos is very simple. All you have to do is just open the desired video and then go to the option and click on the copy button to copy the video link. Next, open the website and paste that link to create optimized tags for your video. Furthermore, you need to be aware of the selection of the link which you need to put into the search bar because in many cases due to improper pasting of the link the extraction was not properly done and can create different digital malfunctions.
Tip: Yttags is a free online tool to extract tags from a YouTube video by entering a YouTube URL. "Limits of Youtube Tags & Description In Youtube Video."
In YouTube, tags are either descriptive or explanatory keywords that help viewers find video content. As per YouTube, the tags include video`s titles, descriptions, and thumbnails are a vital part of the metadata, which are crucial ranking factors to boost your videos in the search results of YouTube.
By tagging your video, you help YouTube discover your video`s topic, pair it with similar content, and include it in relevant searches, making your videos more visible to new people and helping you to attract subscribers.
Instructions
Step 1. Get the URL of the YouTube video
Step 2. Enter the YouTube URL in the text field
Step 3. Click "Find" button Extract tags from YouTube video
Step 4. Grab or copy the YouTube video tags
Youtube Tag Extractor
Our Youtube Tag Extractor tool comes with many amazing features:
1. Extract tag from any youtube video
2. Copy all tags in one click
3. See video tags
4. Grab or copy the YouTube video tags
Conclusion
Tag extractor is one of the effective and easy processes which can be utilized by any individual and helps to extract the video for further usage. However, every individual needs to understand to develop digital usage knowledge and accordingly develop their creative skill set for developing the digital utilization experience further. Furthermore, the overall content demonstrates the tag extraction and related aspects for developing the idea of the individual towards the usage of YouTube tag extractor and helps to develop their content credibility further. Moreover, it helps to provide complete privacy and help to provide excellent video content to increase the individual's expectations towards the website for further.