How to use this Anniversary Calculator Tool?
---
---
How to use Yttags's Anniversary Calculator?

Step 2: Input The Date And Click On Calculate Button.

Step 3: Check Your Anniversary Calculator Result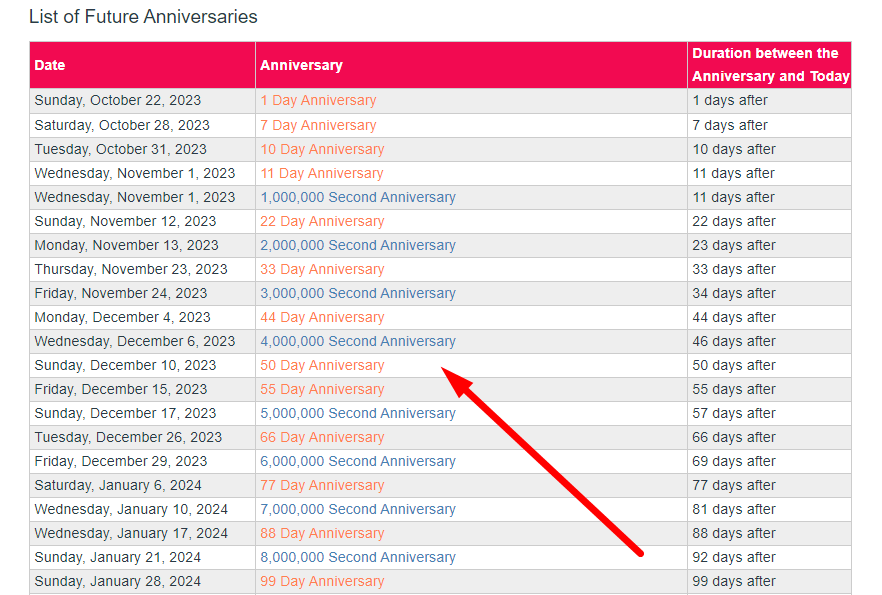 ---
Online anniversary calculator to calculate how long you've been married, in a relationship, or working at the same job. ➤ As a Wedding anniversary calculator it will tell you when your next marriage anniversary is and what anniversary it is, as well as help you pick the best gift for your spouse based on traditional anniversary gifts and modern wedding anniversary gifts. Calculate the exact relationship age in years, months, and days.
Wedding Anniversary Gifts
| Anniversary Year | Traditional Gifts | Modern Gifts |
| --- | --- | --- |
| 1st Year | Paper | Clocks |
| 2nd Year | Cotton | China |
| 3rrd Year | Leather | Crystal/Glass |
| 4th Year | Linen: Silk (UK) Fruit/Flowers (US) | Appliances |
| 5th Year | Wood | Silverware |
| 6th Year | Candy (UK) Iron (US) | Wood |
| 7th Year | Wool (UK) Copper (US) | Desk Sets |
| 8th Year | Salt (UK) Bronze: Pottery (US) | Linen, Lace |
| 9th Year | Copper (UK) Willow: Pottery (US) | Leather |
| 10th Year | Tin (US & UK) Aluminum (US) | Diamond Jewellery |
| 11th Year | Steel | Fashion Jewellery, Accessories |
| 12th Year | Linen: Silk (UK) Home Décor (US) | Pearls |
| 13th Year | Lace | Textiles, Furs |
| 14th Year | Elephant statute/sculptures | Gold Jewellery |
| 15th Year | Crystal | Watches |
| 16th Year | Silverware | Silverware |
| 17th Year | Furniture | Furniture |
| 18th Year | Porcelain | Porcelain |
| 19th Year | Bronze | Bronze |
| 20th Year | China | Platinum |
| 21th Year | Brass, Nickel | Brass, Nickel |
| 22th Year | Copper | Copper |
| 23th Year | Silver Plate | Silver Plate |
| 24th Year | Opal (US) | Musical Instruments |
| 25th Year | Silver | Silver |