How to use Yttags's Privacy Policy Generator?

Step 2: Enter Site name,Site URL,About site,Your name & Email id And Click On Generate My Privacy Policy Button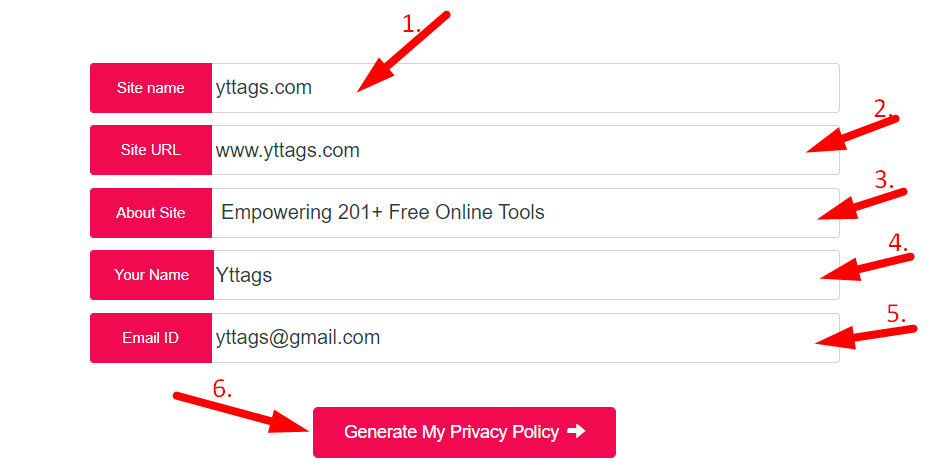 Step 3: Check Your Privacy Policy Generator Result
---
About How to Use Our Generator for Privacy Policies?
---
How do privacy policies work?
A legally needed contract between you and the users of your website or app is a privacy policy. This agreement details your user data handling policies and privacy practises.
A privacy policy, for instance, will outline the categories of personal data you gather, how you gather the data, how you keep the data safe, what you use the data for, and whether you disclose any of that personal data with third parties.
The use of cookies and other tracking technologies that may compromise user privacy is also disclosed in privacy policies.
Global privacy laws mandate the implementation of privacy policies wherever personal information is collected or used.
The Privacy Policy Generator is uncomplicated?
Yes, Yttag's Privacy Policy Generator is available without charge.
Our terms and conditions are free. We offer supplemental clauses in our optional premium agreements that can better safeguard your company's interests (for a one-time cost).
Can I obtain the Yttag Generator's produced Privacy Policy?
You can download the Privacy Policy document as HTML, DOCX, or Plain Text using Yttag's Privacy Policy Generator.
How do I generate a free Privacy Policy?
Use the Privacy Policy Generator from Yttag to generate a free Privacy Policy for your business.
Can I copy other Privacy Policies?
Copying someone else's Privacy Policy is illegal. Under patent laws, legal agreement (including a Privacy Policy) are secluded by copyright.
Why is a privacy policy necessary?
You require a solitude policy for the following two main reasons:
They are mandated by law. You must abide by privacy regulations put in place worldwide to protect consumer privacy if you collect or utilise personal information.
These rules will be enforced regardless of where your company is physically based because they aim to safeguard local customers.
The EU's GDPR will still apply to you, for example, if your friendship is based in the United States but has clients in the EU.regions.
The EU's GDPR will motionless apply to you, for example, if your business is based in the United States but has customers in the EU.Customers anticipate seeing them. Without a privacy policy, you risk losing customers in a world where consumer isolation is more crucial than ever and consumers are beginning to take their privacy more seriously.
People anticipate finding a isolation Policy that they can simply access at any time. If you don't have one, you'll come transversely as unreliable.
If I don't gather personal information, do I still need a privacy policy?
To create it clear that you do not gather any individual data at all, you will need a solitude policy.
To ensure that you do not collect any data, carefully assess all of your data gathering procedures. By using third-party military like Google Analytics, you run the risk of meeting personal in order.
Which nations demand privacy policies?
The majority of nations in the globe have laws in place that mandate you have a solitude policy in place if you handle private data belonging to their citizens. Several country, including Canada, the EU, the UK, the United States, and Australia, have legislation requiring privacy policy.
As worries about privacy increase, more nations are anticipated to adopt this requirement will grow.
Which legal requirements must I be mindful of while creating a privacy policy?
Laws that mandate privacy policies serve to safeguard citizens in particular geographical areas. Or, to put it another way, even if you don't live in California, you still need to be aware of its privacy rules if any of your clients do.
Given the worldwide nature of business, it is best to be familiar with all the major privacy regulations and to research them more thoroughly in the countries where you are certain to conduct business.
Which statutory obligations must I take into account while drafting a privacy statement?
Privacy rules are required by law to protect citizens in specific geographic locations. Or, to put it another way, even if none of your clients reside in California, you must still be aware of its privacy laws.
Given that business is conducted on a global scale, it is best to be familiar with all the key privacy laws and to learn more about them in the nations where you are certain to do business.
The only federal privacy law in the US that protects children's privacy is called COPPA. You must exercise special caution when managing personal information if your U.S. clientele includes children under the age of 13.
The PIPEDA is a Canadian statute that solely applies to Canadian businesses. Businesses that handle personal information must establish a privacy policy, whether they are online or offline.
According to the law, "personal information" includes things like names, birthdays, salary data, racial or ethnic origin, employment details, and other private information.
Only businesses based in the UK are required to follow the Data Protection Act of 1998 (DPA), a UK law.
Any company that gathers, maintains, and utilises personal information must adhere to data processing regulations and only gather the minimum amount of information required.
Personal information includes things like email addresses, complete names, identification numbers, and dates of birth.
It covers permissible data collecting, usage, and storage practises that are well-covered if your business uses a Privacy By Design strategy, using a list of privacy principles. Even though the law predates many cloud software services and mobile apps, it is considered to be applicable to them.
You must be aware of not only local and federal laws in your authority but also those of where your website, app or overhaul will be accessible.
Many legal issues occur with company because they violate the laws of a realm where they are not included but perform dealings.
Give us some information about your company.
Answer a few questions in our privacy policy generator to quickly create your legal policy.
Post your updated privacy statement.
We'll present you with a few alternatives when you're prepared to add your privacy statement to your website. We make it simple regardless of whether you administer your website yourself, with a professional service, or with a content management system like WordPress.
Update your website with your policies
Finally, we've got you covered when it comes to maintaining compliance. As regulations change, our legal staff periodically evaluates and updates the privacy policy generator. We'll also examine and update as necessary when new laws are passed, including some recent state laws in the US. You'll be kept informed to ensure that your coverage remains legal.