How to use this INI to YAML Converter Tool?
---
---
Online INI to YAML Example
Below is an example of the original INI to YAML and the result.
Original INI to YAML Example

; comments
[owner]
name=yttags
organization=pakainfo.com

[database]
; comments
name= yttags
server=192.0.2.62
server.host=localhost
server.port=143
server.port.listen = true
file=yttags.dat

And an example of how the online INI to YAML works.
INI to YAML Result

---
owner:
  name: "yttags"
  organization: "pakainfo.com"
database:
  name: "yttags"
  server: 
    host: "localhost"
    port: 
      listen: "true"
      0: "143"
    0: "192.0.2.62"
  file: "yttags.dat"

How to use Yttags's INI to YAML Converter?

Step 2: paste your INI text into the textbox And Press The Convert Button And Check Your INI to YAML Converter Result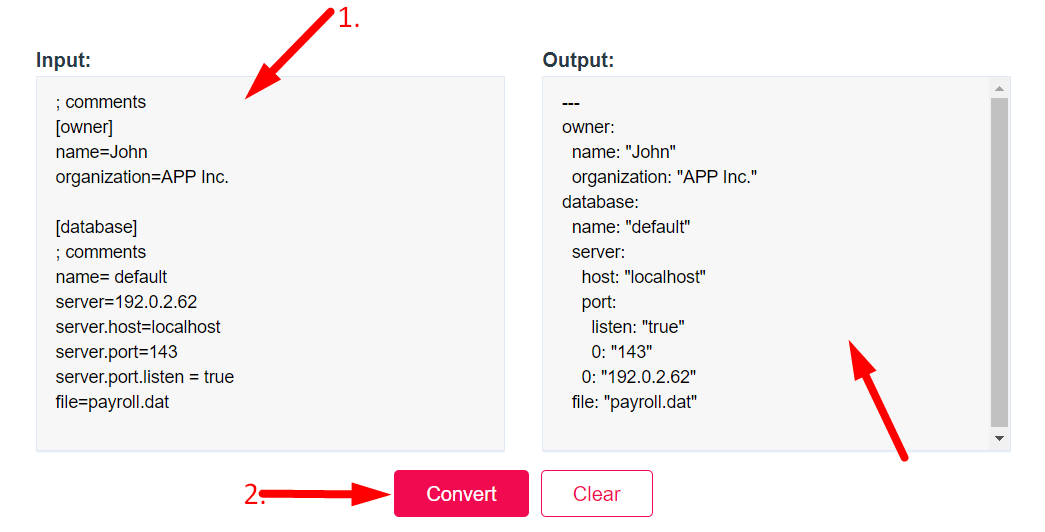 ---