How to use this BOND Calculator Tool?
---
---
How to use Yttags's BOND Calculator?

Step 2: Enter Following Options And Check Your BOND Calculator Result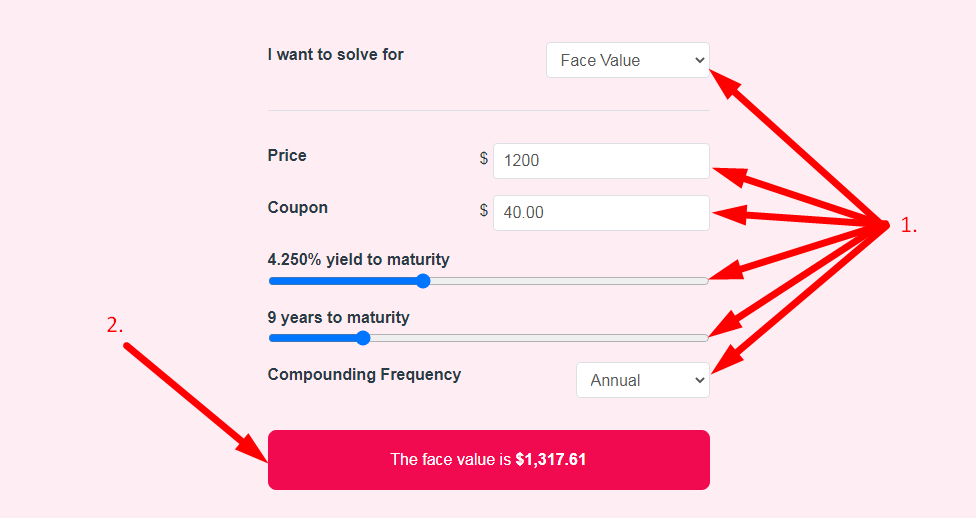 ---
The bond pricing calculator shows the price of a bond from coupon rate, market rate, and present value of payouts. Plus dirty & clean bond price formulas.
How does the value of a bond change when the interest rate environment changes? Calculate the value easily with our bond calculator!
Calculate Bond Yield
| Metric | Description |
| --- | --- |
| Coupon Rate | The coupon rate (i.e. interest rate) is multiplied by a bond's par value to determine the annual coupon payment owed to a bondholder by the issuer. |
| Current Yield | The current yield is the expected annual return of a bond if the security is held for the next year. |
| Yield to Maturity (YTM) | The yield to maturity (YTM) is the anticipated annual rate of return earned on a bond, assuming the security is held until maturity. |
| Yield to Call (YTC) | The yield to call (YTC) is the return on a callable bond, assuming the bondholder redeemed the bond on the earliest call date before maturity. |
| Yield to Worst (YTW) | The yield to worst (YTW) is the minimum return received on a callable bond, i.e. the "floor yield", aside from the yield if the issuer were to default. |
If you want to link to
Bond Calculator
page, please use the codes provided below!