How to use this Blog Ideas Generator Online Tool?
---
---
How to use Yttags's Blog Title Generator?

Step 2: Enter your blog title keywords or topic And Click On Generate Blog Topics Button

Step 3: Check Your Blog Title Generator Result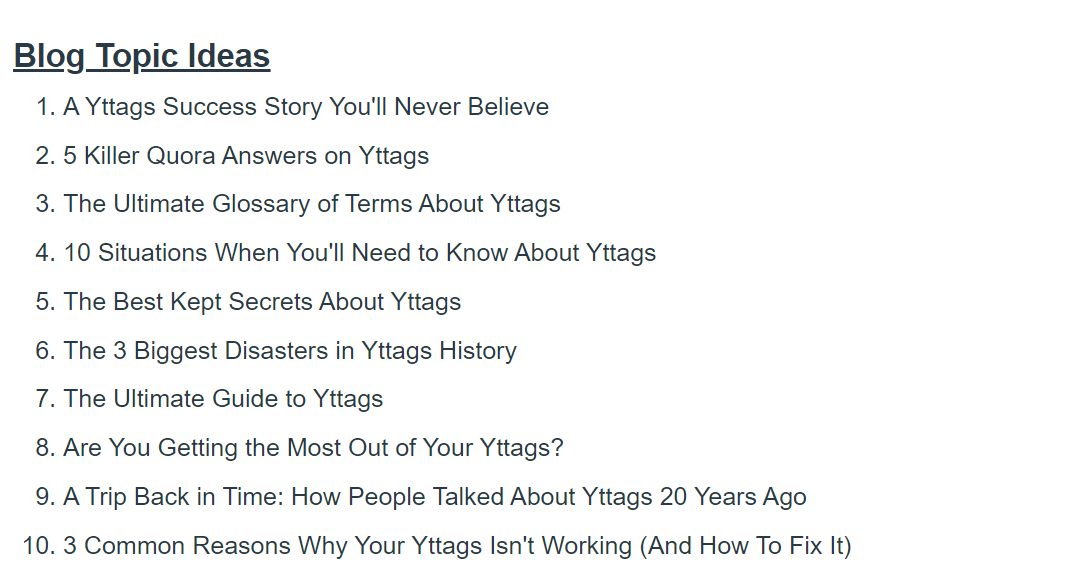 ---
Online Blog Title Generator Example
Below is an example of the original Blog Title Generator and the result.
Original Blog Title Generator Example

Yttags

And an example of how the online Blog Title Generator works.
Blog Title Generator Result

What Would the World Look Like Without Yttags?
My Behind-The-Scenes Process For Yttags
20 Trailblazers Leading the Way in Yttags
20 Best Tweets of All Time About Yttags
The 17 Most Misunderstood Facts About Yttags
10 Tips for Making a Good Yttags Even Better
The Best Advice You Could Ever Get About Yttags
4 Dirty Little Secrets About the Yttags Industry
From Around the Web: 20 Awesome Photos of Yttags
10 Tell-Tale Signs You Need to Get a New Yttags

Yttags Title Generator generate the most relevant list of click worthy & unique title ideas for free. Simply enter a noun & select the noun term based on the context options.
Get endless suggestion, creative blogging topics and other catchy titles with our updated Free Online Blog Title Generator!
Benefits Of Using A Blog Post Title Generator
Be Conscious Of the Length
Create Engaging Headlines
Generate Options
Know Your Audience
Put Keywords At The Beginning Of The Title
Research Similar Blogs And Build A Formula
SEO Friendly Blog Post Titles
Save Time
Stay On Top Of Blog Post Title Trends
Test Blog Post Titles
Use Persuasive Language