How to take Membership by Highrich Free Registration : Do you know what is the plan to earn after registering for free? Can Highrich company earn online sitting at home?
As you know, in today's time many companies are selling products in the market. There are such highrich companies that try to provide all kinds of products to their customers.
First of all you have to register on this site. If you read this post then Highrich Free Registration can be done in just 2 minutes. Let us know how to create Highrich Membership Id?
Highrich Free Registration
Things required to become a member on Highrich.Net site. If you want to create an account, then for this you must also have the necessary things which are as follows.
Email ID
Sponsor ID
address
mobile number
Also Read : 15+ Best IPTV Service Providers
Get Membership by Highrich Free Registration
step 1
To register for free on Highrich account, first of all search Highrich.Net in Google. The website that will appear in front of you in the search result, you will have to go to its homepage. Login page will open here. To register for free, click on the option of Free Registration.
Step 2 Create A New Account
To create an account, you have to fill a form.
Sponsor Userid: Type the sponsor ID of the Upline here.
Name (As Per The Bank Pass Book): Enter the same name in this box as it is registered in your bank account.
Address: Type the address in this box.
Country: Select the name of the country here, here I am selecting India.
Mobile Number: Enter the mobile number in this box.
Email Address: Type Email Id here.
State: Select the name of the state.
District : Enter the name of the district.
Zipcode: Type the pin code.
Sign Up: Click on the Sign Up button in the last.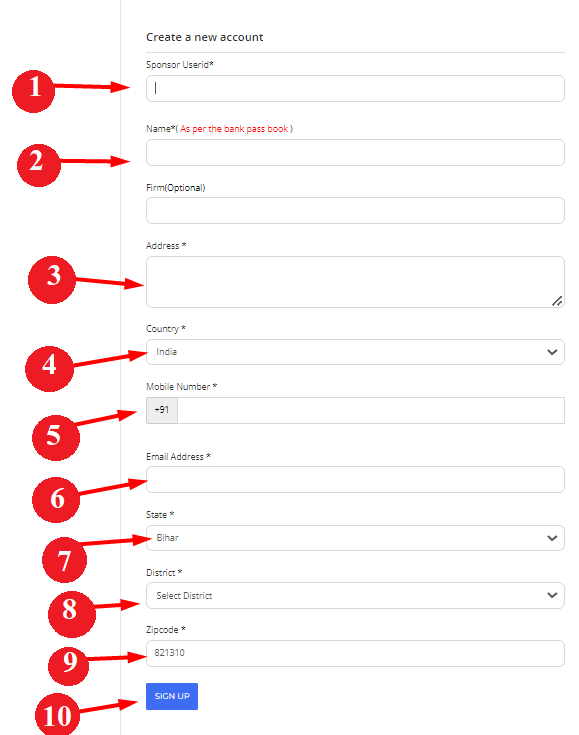 Step 3 Registration Confirmation
All your details are given on this form. If everything is correct then click on the Next button.
step 4
Your registration becomes successfull on this page.
Password and User Id are given on this page. Apart from this, User Id and Password will also be received on your mobile number.
step 5
Here you have to go to the Login page. After this login by entering User Id and Password.
step 6
Here you have to set the password. Set the password in both the boxes and click on Save Changes.
step 7
The message of Updated Transaction Password Successfully will appear on the next screen. Your account has become ready. Now you can easily make a member.
Also Read : State Specific ID
Conclusion
In the post of yttags.com, the method of taking membership by doing Highrich Free Registration has been explained. I have also told in the post that what is the complete process of creating an account. If you like this post then share it on social media site.